The 2016 competition is closed.
NEW ! In 2016 the competition will feature live auditions for all age groups on April 2nd, 3rd, 2016. There will be no preliminary round based on CDs. Since 1990, scholarships have benefited over 200 promising young piano students. The Society awards both competitive scholarships and developmental awards.
Competitive Scholarships Award Program.
Eligibility:
All piano students who demonstrate outstanding pianistic talent and progress while pursuing excellence in performance. Previous 1st prize winners may not compete again in the same age group. Contestants should not be relatives or students of judges, artistic advisors, Steinway Society board members or employees of Jacobs Music. We would like to encourage parents to give their potential contestants an opportunity to be inspired by hearing our professional pianists play in our musicales.
To apply, please download a 2016 scholarship application by clicking here and please download the detailed instructions and answers to frequently asked questions (also appended below).
Applications must be delivered or postmarked by February 16, 2016. Late applications will not be accepted. PLEASE NOTE THAT IN 2016 THERE WILL BE NO PRELIMINARY ROUND BASED ON CDs. All contestants will audition live before a panel of three judges on April 2nd, 3rd, 2016 after which awards for each age group will be announced. Written comments will be provided to all contestants. Students should submit an application form listing their selections of two contrasting works from (a) Baroque or Classical periods and (b) Romantic, Impressionistic or Contemporary periods along with the application fee (see application form for details).  Repertoire played in previous competitions may be downloaded here.
Please include a brief biographical statement. Please do not staple check to application.
Live Audition Saturday and Sunday April 2nd, 3rd 2016: Three judges will audition the contestants who will perform from memory the two repertory pieces listed on their application. The auditions will be at Jacobs Music, 2540 Brunswick Pike, Lawrenceville, NJ 08648. By applying to the competition parents understand that the contestants must be available to perform at their scheduled time. Please provide an original score of each piece (no photocopies) for use by the judges. The names and qualifications of the judges will be announced later.  Judges reserve the right not to award scholarships in all categories; their decisions will be final. Winner placements will be announced and photographs taken after each group. Written comments will be sent to all contestants. The 2016 Judges were Dr. Kairy Koshoeva, Dr. George Borisov and Ms. Georgiana Rosca. Click here for 2016 Judges biographies.
Scholarship Winners Musicale May 1, 2016 at 3:00 PM: Winners will perform one piece and receive their awards during the Scholarship Musicale on May 1, 2016 at Jacobs Music. Photographs will be taken following the recital. By applying to the competition parents understand that the winners must be available to perform in the scholarship musicale. Having participated as a winner, you consent to the use of your name and photograph in connection with Steinway Society publicity.
Dates to remember:
The application deadline is on February 16th, 2016.
Scholarship auditions: Saturday and Sunday April 2nd, 3rd 2016
Scholarship winners recital: 3:00 PM May 1, 2016.
Testimonial from Daniel Rorke: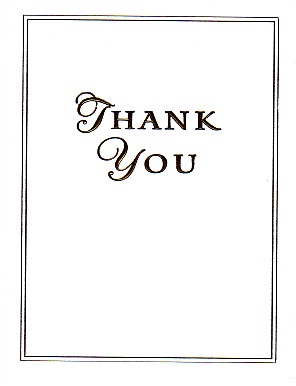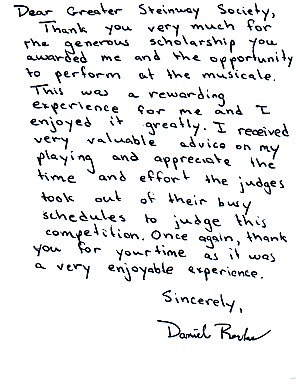 Frequently Asked Questions
2016 Steinway Society Scholarship Competition   updated 9/28/2015
Q. Do I need to submit a recording with the application as in previous years ?
A. NO, there will be no preliminary round this year. All entrants will compete during the live round on April 2-3, 2016.
Q. Can the repertoire listed on the application form be changed before the live audition?
A. Yes, changes can be made provided the request for repertoire change is submitted to the organizers by February 16th, 2016 and the changes meet the competition requirements.
Q. What age category applies if the student has a birthday between the time of application and the audition?
A. The age of the student on the audition date determines their age category for the competition. Students cannot compete in a higher age group.
Q. Are specific repertoire pieces required ?
A. No, the only requirement is a polished, artistic performance of two contrasting solo works from the (a) baroque or classical period and (b) Romantic, Impressionistic or Contemporary period. As an illustration the repertoire played in the 2015 final competition may be downloaded here.
Q. I am planning a piece by Schubert. Is he considered Classical or Romantic ?
A. Please consult http://www.mtna.org/media/74548/ComposerClassifications.pdf for the classification of any piece.
Q. If the length of two pieces performed were to exceed 12 minutes (Group I,II) or 15 minutes (Group III,IV) by somewhere between 1-2 minutes, would that be problematic?
A. The most important principle is that the competition provide an even playing field. We ask the judges to form an opinion based on the first 12 minutes (Group I,II) or 15 minutes (Group III,IV). They have no obligation to listen for longer than the prescribed time limit. But a performance with total duration over 12 minutes will not be automatically disqualified.
Q. If a student omits a repeat to keep under the time limit will they be penalized for this ?
A. We recommend the student omit the repeat to stay within the time limit.
Q. If a student submits 2 slow movements to keep with the time limit will he/she be penalized for this ?
A. Submitting two slow movements would be disadvantageous as we ask for two contrasting works.
Q. Should I staple the check to the application?
A. Please do NOT staple the check to the application.
Q. Can I drop off entries one day after deadline date ?
A. No applications will be accepted after the deadline.
Q. When will the contestants be notified about their audition times ?
A. We expect to notify the contestants before March 8th, 2016. The winners of the competition will be announced at the live audition. An email will be sent informing them of the one piece to be played at the winners musicale. This is a festive occasion with a reception following the recital. Photos are taken which are then posted on our website.
Q. I have a question that is not covered by the information above.
A. Please send an email to Steinwaysoc@gmail.com well in advance of any deadlines to give us time to respond.